Some kind words & success stories from my clients & their dogs!
Since I began practising Canine Massage, I have worked with lots of different types of dogs and a variety of different conditions. Here are just a few of my success stories along with some kind words from the owners of dogs I have treated.
Katie – Mansfield
Jayne is Mrs amazing Magic hands.
If you are even just remotely considering K9 massage, and Jayne is local to you, without doubt get in touch and book in! You will not regret it and your dogs will thank you!
Having sporty, active running dogs, I feel the benefits of having maintenance visits, which are massively beneficial, we come away happy, relaxed and confident they are doing well.
We are incredibly lucky to have Jayne. Working with both of my dogs and one who is not impressed with touching, faffing, manipulating, or indeed asking him to do anything he doesn't want to do, on our 2nd visit he was so excited to see Jayne and amazingly actively pushed forward for his treatment. He was so relaxed it was untrue, he is never this still!
So HUGE thank you again Jayne, I.know you do not push us for lots of visits for maintenance, but the benefits are massive, even when you do not have a dog with any issues!
If you want recommendations let the animals speak for you.
If we had to give out of 10 scores to Jayne, I'd say the marks go way off the scale!
Jayne is dedicated, compassionate, understanding and takes each dog as the individuals they are.
I do not hesitate in highly recommending Jayne, we all adore her.
Sarah, Derbyshire
Jayne comes to see my two girls and they loved it.
Jayne is incredibly intuitive and naturally works for the dogs highest and greatest good doing what is right for the animal at all times. Jayne is so passionate about what she does, she's so knowledgeable and happy to accommodate both dog and owners needs.
I would highly recommend Jayne.
Diane, Goole
We would like to say a huge thank you to Jayne for all the continued hard work you do to help my girl.
I have never met anyone as professional, passionate, loving and caring about her job.
It is not just a job to Jayne it's her passion in life to help all our beautiful fur babies.
Jayne you are the best K9 massage therapist ever and have magical hands.
We love you dearly.
Ruby absolutely loves and adores her Auntie Jayne and these photo's of them both together just proves how much.
Cathy – Worksop
Amazing lady, Jayne is so calm and patient with dogs and owners alike. My nervous rescue dog is very wary of anything new but Jayne manages to settle her and has sorted a recurring muscle problem that causes her to limp badly.
I admit to thinking dog massage seemed a bit weird when I 1st heard about it but I'm a convert as it's really helped my dog.
Importantly for me Jayne is so professional and works in conjunction with your vet so that I know my dog is getting the best possible all-round care.
Collette – Thorne, Doncaster
After Rescuing our aged collie, the stiffness in her joints were very noticeable. K9 Bodycare was highly recommended to me from a very satisfied customer. `My girl quickly familiarised herself with Jayne and after the initial " what are you doing with me" soon relaxed and enjoyed her massage. I have found Jayne to be very professional, welcoming and experienced in her field of work.
From our first visit the visible difference was apparent both physically and mentally and having " a new lease of life" . Her treatment is ongoing as well as my homework from Jayne.
I would not hesitate to say " go and give it a try" I'm sure dog will love you for it.
Ziggy
I was very interested in Canine Massage as the Bullmastiff breed can suffer from a number of joint issues and as Ziggy launches him self everywhere at 90mph, so is often hurting his front legs and also had a hernia operation and was hopeful that Canine Massage Therapy could reduce the scar tissue.
Jayne was able to keep his interest as he is easily distracted, and he responded well to Jayne's commands. Jayne was brilliant with Ziggy, firm but fair and his scar tissue has definitely improved and also stiffness in his neck is so much better. He gets so excited to see Jayne, they have a lovely relationship.
Lola
Lola, is 8 years of age and has Hip Dysplasia, we got in touch with Jayne to help & assist with her movement, help with the stiffness and improve her everyday quality of life.
Massage has really helped Lola with this long-term condition and her mobility has improved greatly and she is much happier and more comfortable in herself – allowing her to continue with Agility. Jayne now sees Lola on a monthly basis for maintenance treatments.
Woody
I contacted Jayne as Woody is showing signs of slowing down and has intermittent lameness. Jayne was terrific, before she started doing anything she spent time getting to know him and building rapport – Woody took to Jayne from the off. Woody had complete trust in Jayne and they really connected in just one session, so much so that the following week Woody was truly delighted to see her. He loved it it, relaxed to the point of sleeping, Woody Is more relaxed & less anxious and is now running with the other dogs & just seems younger.
I certainly feel it has benefitted Woody and it is unquestionably something he completely enjoys and gets something from.
Logan
An agility dog that is always on the go all the time, is very tense, twitchy and tight. Jayne handled Logan with expertise & care and was very patient with him as at times he was a little awkward and uncomfortable due to his issues. I can see big improvements, when I used to touch his back he used to twitch quite badly, but now there are no twitches, no tension and no tightness.
I will be keeping up with Massage Therapy for Logan as he has really benefitted from it.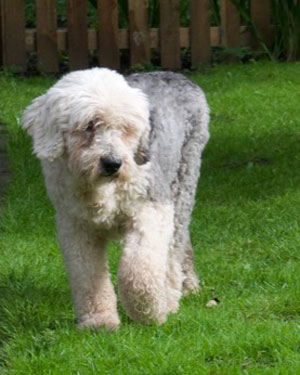 Cookie
I was amazed that something like this could be done for Cookie to help her. She loved it and was really relaxing for her. Jayne was great with Cookie and gained her trust and she totally relaxed during her massages. It has definitely helped with her mobility and she also had a few problems with her neck and shoulders which, after receiving massage has freed these areas up for her.
Hebe
An agility dog and a very independent lady. I approached Jayne to work with Hebe during the winter months to complement her sporting regime, and to reduce muscle tension & twitching.
Jayne was brilliant, very calm with Hebe when wriggling around, sitting down and not lying down (but Jayne adapted the massage to suit this)
Massage has really reduced the muscle tension and her recovery period has reduced as the muscles are so much more relaxed and allow for better performance – she is now winning more competitions.
Big improvements.
Massey
We approached Jayne as Massey has intermittent lameness from an injury 18months previous. She has a way with Massey and he just relaxes and once on the massage table he just gets into the right position and allows Jayne to do her work. We have noticed a great improvement in Massey and have not noticed any lameness for months; he can now go on long walks with no problems at all. We continue to use Jayne, as it has been so beneficial and now part of his routine. Jayne is so professional and adapts each treatment to suit the needs.
Wouldn't hesitate recommending Jayne at K9 Bodycare. ur two dogs love to go and see Jayne monthly for their body checks. One has hip dysplasia who benefits enormously from her massage sessions, the second takes part in agility and Jayne helps to keep her fit an raring to go!!
Nigel Dexter – Facebook
Jayne is absolutely brilliant with Ziggy. We first started seeing her so that she could work on a scar following surgery, and continued when we realised the benefits massage was bringing for ziggy. His scar is now very reduced. He is a big boisterous 18 month old with the mindset of a 6 month old and Jayne handles him so well. They have such a lovely relationship and he adores her. Thank you Jayne for the excellent work you do with him xxx
Rachel Staniforth – Facebook
Just got back from our first visit with my old terrier and Jayne was brilliant with her. Solo has been suffering bad but was right at home. She was so settled. Thanks again and see you soon xxx
Gemma Baron – Facebook
Jayne is brilliant with my very active collie. He is an agility dog and keeping him fit and in top condition is very important to me. I trust Jayne completely and she really helps to keep Mambo in top condition.
Nikki Collins – Facebook
Jayne is amazing, my 2 agility dogs have regular maintenance massages & she's just fantastic, super patient when the dogs are being naughty..I'd 200% recommend her for a canine massage. she's defo helped my dogs performance..I'm so glad that my dogs get to see her regular as they love her as much as I do.
Angela Owens – Facebook
Jayne came to see my two girls today and they loved it. Jayne is incredibly intuitive and naturally works for the dogs highest and greatest good doing what is right for the animal at all times. Jayne is so passionate about what she does, she's so knowledgeable and happy to accommodate both dog and owners needs. I would highly recommend Jayne. Look forward to seeing you again next time. Thankyou
Sarah Edwards-Keeling – Facebook
I would thoroughly recommend Jayne, she is so good with the dogs helps, very patient, even when they want to play. My dog loves going and loves Jayne which is really good as she doesn't always trust people. Jayne found a problem that was causing her muscles to be stiff and soon freed them off. You could tell each time we went that she was improving. Not only that, the dogs really like the attention, it relaxes them, I never thought my Roxie would lie there as still as she did, even with her eyes closed. I know Jayne doesn't like it being called that but its like a dog pamper session as well as treatment.
Elizabeth Edge – Facebook
Jack loves Jayne. An old border collie with a very arthritic knee and a bad limp. He's improved lots under Jayne's wonderful care. Because of the limp, Jack compensates with other joints and muscles and can get in a bit of a knot. Jayne sorts these out and gets him balanced and strong again. A very professional, caring lady, Jayne takes time and gets to know her patients and their varied conditions and gives you a lot of help on how to sustain their health between visits. She has identified all sorts of little areas for us to work on with Jack and is able to get old Jack letting her do things that we wouldn't have thought possible, because she is so gentle and patient. Highly recommended.
Tina McFarlane – Facebook
My dog was recovering from a soft tissue injury and I would try anything to help him, Jayne was introduced to me through a friend and since our first appointment we've never looked back. Over the first few sessions with Jayne, we were given areas to work on and over the weeks and months of Jaynes help he just improved, went from strength to strength and could tell he was looking and feeling amazing.
Jayne is such a loving caring professional person who clearly loves her job and the animals she treats, I feel so happy and lucky to have my dog in such good hands.
Jayne has definitely helped my dog with his road to his recovery and still does, we now go for maintenance sessions to ensure he is kept in tip top condition and could highlight any possible problems in the future.
People laughed at me when I first told them my dog was going for a massage but I truly believe Jayne has helped him massively, Canine massage has now become part of our care and maintenance routine and would highly recommend anyone wondering if it can help there dogs to get in touch with Jayne, she definitely helped my dog and will continue to do so for the foreseeable future.
Claire Brownlee – Facebook
Our older dog has improved lots under K9 Bodycare's wonderful care. Jack compensates with other joints and muscles and can get in a bit of a knot. These get sorted out and they get him balanced and strong again. A very professional, caring lady who takes time and gets to know her patients and their varied conditions and gives you a lot of help on how to sustain their health between visits. She is so gentle and patient. Highly recommended.
PinkTowell22 – Yell.com
"After a demonstration of canine massage at a dog show, I was given Jayne's details due to being near where I live. I'm so glad I live here now. I had a vague idea what to expect but I was pleasantly surprised at the all-round package of care that came with the massage. My first impression was one of caring professionalism. I quickly felt very comfortable at Jayne's studio, as did Jack, as it became obvious she wanted to take the time to thoroughly get to know Jack and I and all the issues we have faced. Her patience and thoroughness gave us such a lot of confidence in her straightaway.
Jack loves his canine massage and it's clear how much Jayne loves her patients and wants to help them feel better. He is relaxed and he seems to know that Jayne wants to help him. He has bad arthritis as a result of an old injury, prior to him coming to live with us. The therapy takes into account the whole of Jack, not just the affected area. Jayne explained how treating the whole body, helps Jack to support his injured leg. He has to compensate using other joints and muscles and they need to be treated to prevent them becoming problematic themselves. Jayne always explains what she's doing and encourages us to feel the lumps and bumps that she's describing. Jayne also gives us things we can do for Jack in between visits. I'm convinced massage therapy helps Jack and would happily recommend Jayne. If you're not sure, I would say book a session. The look on Jack's face during his treatment is worth the fee alone."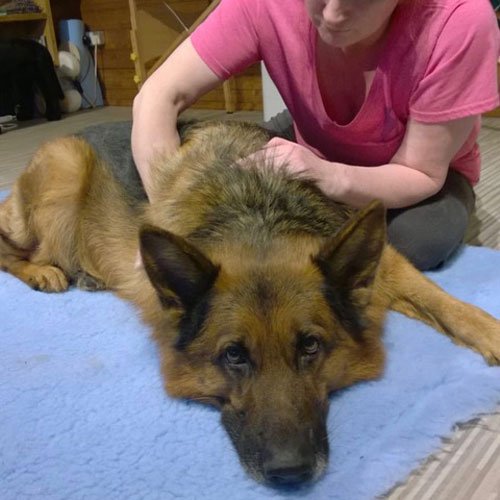 "As an observer of my dog on a daily basis, I felt he had slowly but surely increased in stiffness in a few areas. After chatting with Jayne at a seminar, she examined Joey and watched him moving, confirming my observations. With no hesitation, I booked an appointment.
On arrival we were warmly greeted by Jayne, who responded wonderfully to my request of allowing Joey to acclimatise, as he can be anxious in new environments. Initially Joey (a ferrari dog) took some time to settle. Again working together with Jayne, he settled and now totally relaxes (and snores!) through his canine massage treatments.
From the first session, I saw tremendous improvement in Joey's movement, also his overall demeanour which is wonderful to see.
I would strongly recommend without any hesitation that owners of pet, working or sports dogs (who's muscles come under great stress and often overlooked) give their beloved dogs the opportunity of K9 Bodycare Massage Therapy. Personally I feel "it all depends", on do you have the 'eye' or 'experience' to see an underlying movement issue? For the emotional and physical welfare of your dog, let the very professional Jayne be your port of call.
Joey now goes to see Jayne on a regular basis for maintenance and preventative health care.
Overall rating, excellent 5*"
Emelda & Joey x
"I must admit that I didn't know too much about Canine Massage therapy until Jayne came to do a demonstration at the boarding kennels where I work.
Upon speaking to her afterwards about my 12 year old Border Collie Denver, who has arthritis and all the associated problems that come with it, she suggested that the sessions would definitely be beneficial and of course I was only too willing to try anything that would help my boy to be more comfortable.
I wasn't sure initially on how he would take to it as he can be a bit of a grumpy old man with strangers but at the first session we had Jayne just spent a bit of time getting to know him to start with, chatting to us about him and letting him get comfortable in her presence. Then when she did start the massage she did it slowly at first and stopped again if he was getting agitated at all. Within 10 minutes he was relaxed into it, so much so that he even fell asleep towards the end of the session and I definitely knew he was in good hands after that! She also left us with some massage techniques that we could do ourselves for him in between sessions.
I do think it's one of the best things we have tried for him as after a couple of sessions with Jayne, coupled with the things we've done at home in between, his stiffness has been greatly reduced and even our neighbours have commented on how much better he seemed to be walking. It's almost as if we've got our playful puppy back again the way he tries to bounce around straight afterwards!
Jayne is a true professional and lovely lady who immediately puts dogs (and indeed their anxious owners!) at ease and would thoroughly recommend to everyone – she definitely has magic hands!"
Kelly (Chesterfield)
"I tried massage for my dog due to his stiffness that seemed to be getting more uncomfortable for him as time went on.
I found Jane to be very welcoming and professional when I first visited the set up is amazing and my dog seems to be very comfortable when having treatment. She also makes a fuss over him which he laps up… all in all a very positive experience.
My dog enjoys the massage mostly ( even falls to sleep on occasions ) he stays relatively still for Jane just as long as he can kiss her every 5 minutes!
I feel it's helped my dog a lot – you can even feel the looseness in his muscles immediately after his massage particularly around the hip area.
My overall impression of canine massage is brilliant and I would say If any owner is on the fence about massage just give it a go and you will see the results for yourself."
Naomi (Sheffield)
"I first met Jayne at a dog show last summer. She was brilliant with my lad who is worried about being touched by strangers. I couldn't get him near her stall but she was more than happy to talk after packing up for the day and let Bug get used to her. When I went for my initial visit I didn't know if she'd be able to do anything with him due to his fears but she took it slowly and let him become used to her. Everything was done at a pace that he was comfortable with and she recognised when he'd had enough for the day. Since then I've been back several times and he is so happy to see her now and loves his massages. Even when she has to do something a bit uncomfortable to help him he now just looks at her and nudges her hand with his head. He is completely relaxed while she's working with him and in no hurry to leave when his treatment is over. I would highly recommend her to anyone whose dog either needs remedial treatment after an injury or just a "tune up" to keep them in top condition."
Andrea (Chesterfield)